Discover more from SchoenTell
The future is something which everyone reaches at the rate of 60 minutes an hour, whatever he does, whoever he is. - C.S. Lewis
Thirty-Nine
February 10th marked another year is in the books for me. We celebrated by going to the trampoline park, mowing the lawn for the first time this season, and enjoying tacos and Gold Rush bars (since I'm not a huge fan of cake).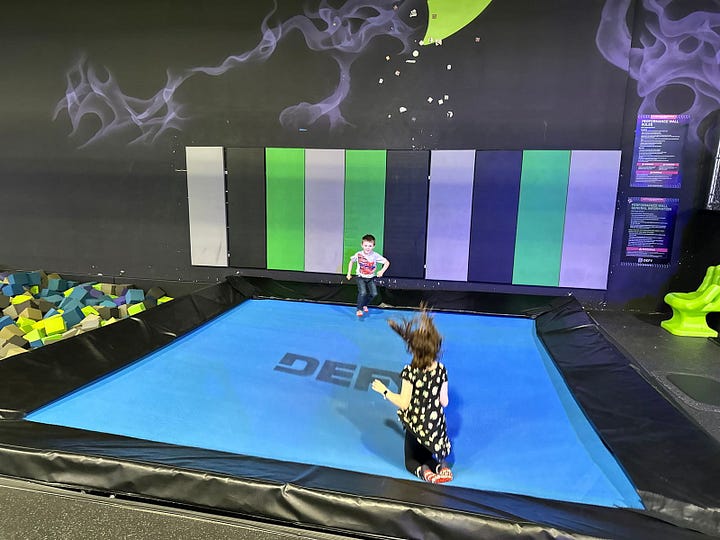 As mentioned in my last update, my mom (Paulette) is back in Renton with us  and has been working on getting settled in... but we've had a busy last couple of weeks which included a fun unplanned getaway to Arizona and California.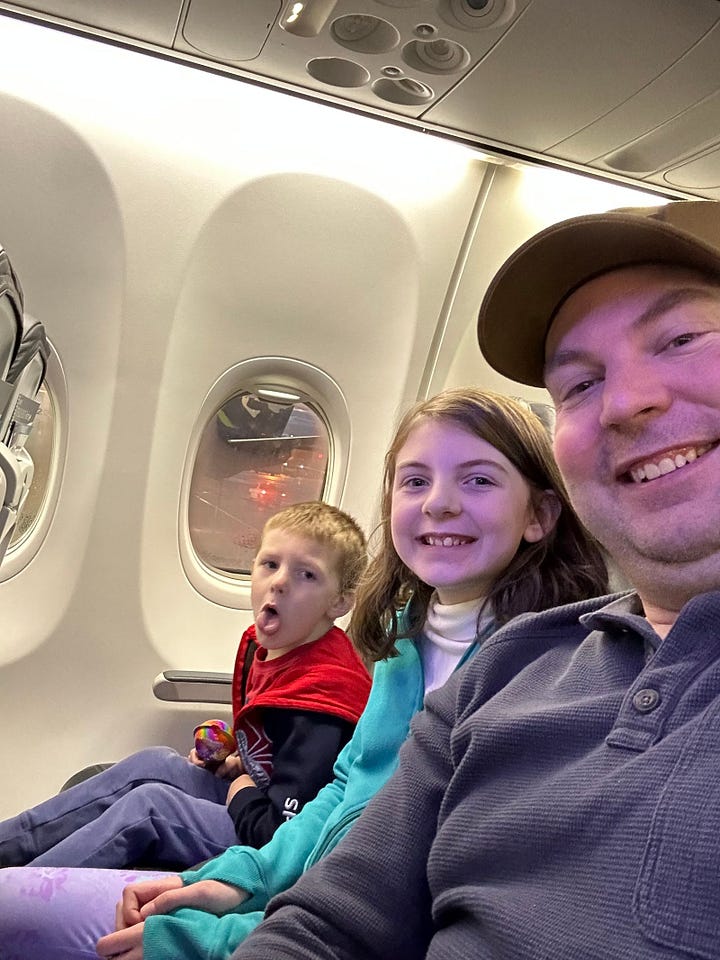 An uncle in the Phoenix area had unexpected open heart surgery and my mom and I discussed her heading to Arizona to be with her sister for some help and support. In making those plans for my mom, I figured that the kids and I really had no good reason not to fly to some sunshine ourselves. My mom flew out on a Friday morning and the kids and I flew out the next day.
My uncle was recovering well and did make it home, but is currently back under watchful eyes at the hospital while they ensure an infection is nipped in the bud. We are praying he will be able to head home soon (and may be already as you are reading this).
The kids and I were able to stay at their home on the west side of the valley (Buckeye). We enjoyed the amazing Arizona sunshine, some delicious In-N-Out, hiking in Papago Park, and even got to enjoy some Torchy Tacos with our friend Laura who made the move to the sunshine  a couple years ago. We also enjoyed a visit to Goldfield ghost town where we got to tour a mine, ride a train, and enjoy some prickly pear lemonade.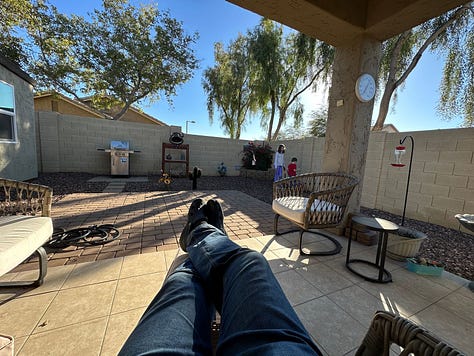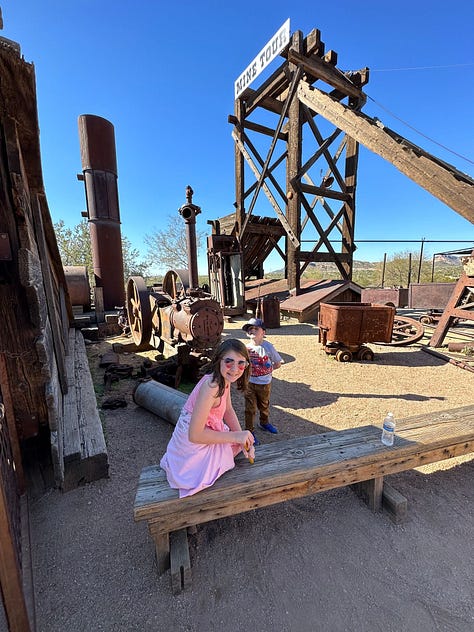 While on the flight to Arizona, I was browsing Apple Maps and realized that California is a lot closer than I remembered, so I started plotting an visit to my old hometown. I mean those rental cars have unlimited miles and you have to get your monies worth. That California trip is one that we have been wanting to do with the kids for years, but had put off thanks to the COVID craziness.
We hit the road Monday for California and enjoyed some nice overcast skies while traveling through the desert which was really nice. We stayed two nights in Anaheim across the street from a certain mouse before heading back Wednesday evening.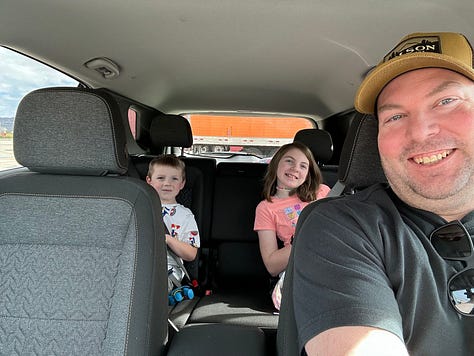 We enjoyed Disneyland and California Adventure all day Tuesday. Wednesday was a blast as I took the kids on a whirlwind tour of my old stomping grounds. We visited the house I grew up in and many friends and family member homes along the way. We also had to hit up all the fun parks that I enjoyed when I was their age. We were even able to drop in and visit my Great Aunt Donna who is one of my last remaining family members in California.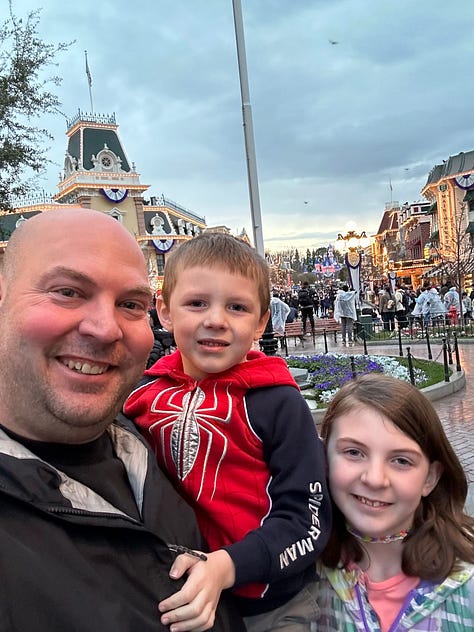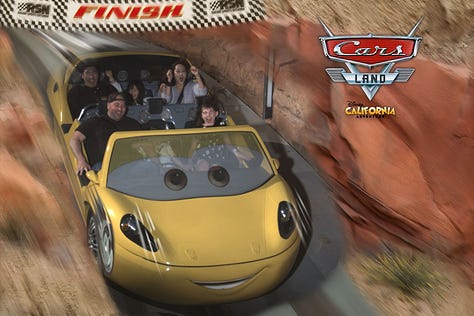 The highlight of the trip was definitely getting to visit Huntington Beach with the kids. We walked the pier, enjoyed watching surfers catch some waves, and had a blast chasing waves on the beach. I shed a fare amount of tears on the beach. I felt like it was a great moment in my grief journey as I reflected on past beach memories with both Steph and my dad.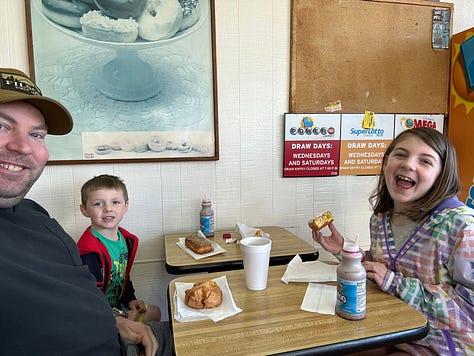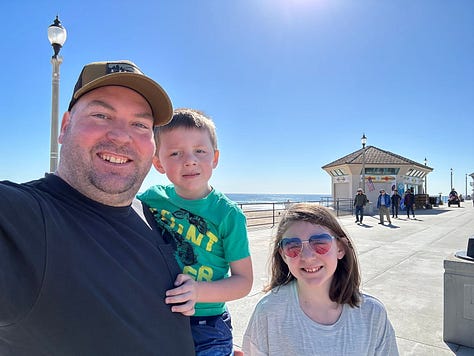 The craziest experience for me was that it was way more familiar navigating around Southern California than it was Phoenix. Phoenix has changed so much in the last 14 years that I had much more trouble figuring out landmarks. California pretty much looked the same with a few facelifts here and there.
Overall it was an absolute blast and it was a little difficult coming back to the cold rain. My mom stayed back an additional week, but flew back last Thursday. Now we are working to get back into some regular routines again.
I am just starting to see what is next in regards to getting back to work, so that is my focus here in the next few weeks.