Discover more from SchoenTell
The future is something which everyone reaches at the rate of 60 minutes an hour, whatever he does, whoever he is. - C.S. Lewis
The "C" Word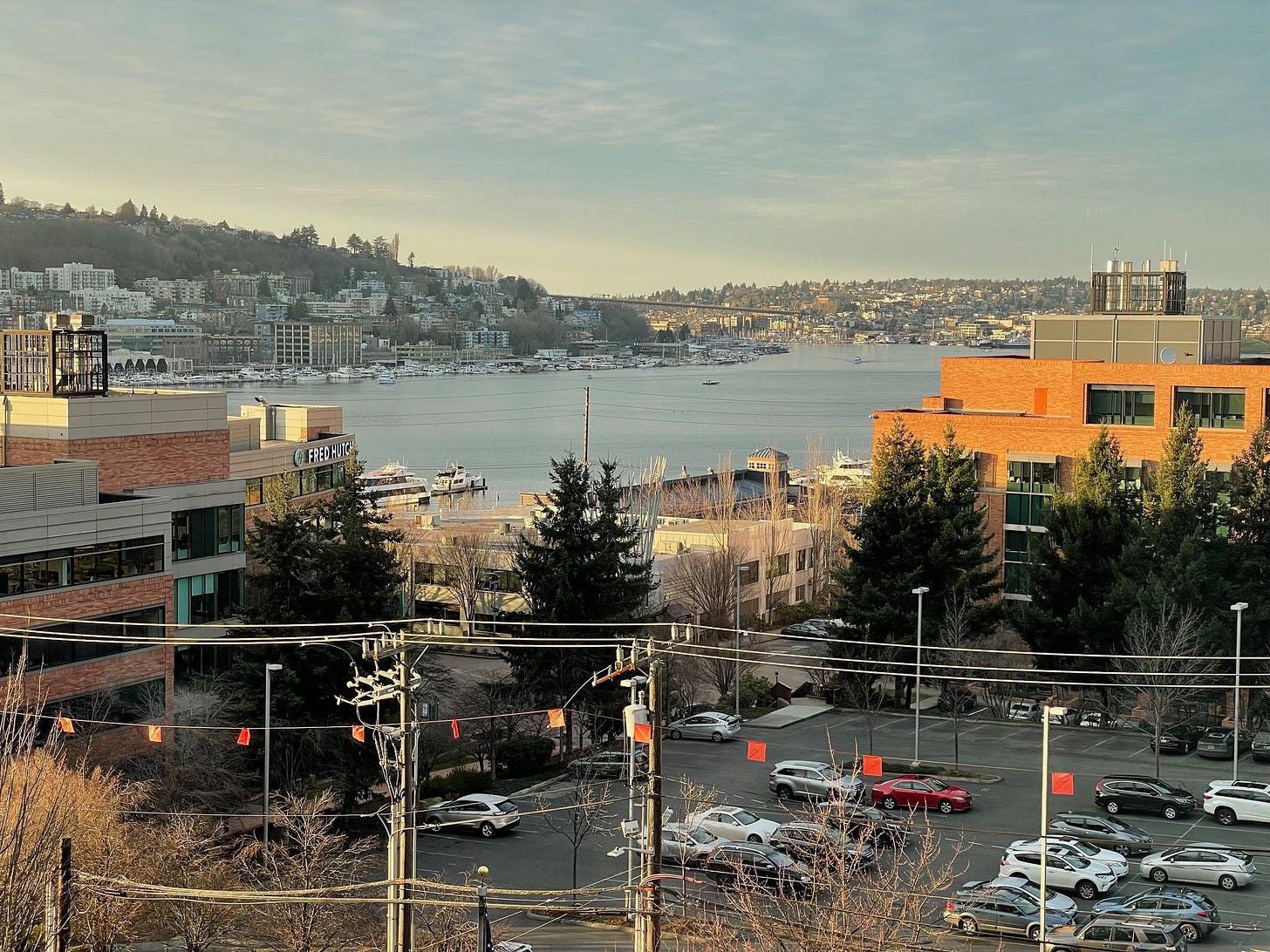 What is going on?
A few weeks ago Steph had mentioned that she had a noticeable increase in her resting heart rate. We compared Apple Watch numbers and didn't think too much of it at the time. This however continued along with feeling a general lack of energy. Her watch also noted the trending resting heart rate increase over time. She decided to make an appointment with out family doctor for a checkup. They performed an EKG and blood draw as part of her checkup to see if anything looked out of the ordinary. Well, things did look out of the ordinary and our doctor referred her to the Seattle Cancer Care Alliance (SCCA) hematology office at Overlake Medical Center. They performed some additional bloodwork and scheduled a bone marrow biopsy for the next day. The results came in and we received a call Wednesday evening confirming that it was in fact leukemia. Further testing was being done and we were scheduled for our first meeting with the hematology office at SCCA in South Lake Union on Friday afternoon.
---
Oncology Crash Course: T Lymphoblast what?
At our appointment at SCCA we learned that Stephanie has Acute Lymphoblastic leukemia (ALL). Because we are fortunate enough to live in the PNW that is one of the top cancer research regions in the world, we received a crash course on ALL from a doctor who is focused only on adults with ALL. See the short videos below featuring our doctor for your own crash course on ALL.
---
The Battle Begins
The current plans are to start Hyper-CVAD treatment at UW starting Wednesday (2/23). This will consist of 4-5 days in the hospital followed by two weeks of outpatient visits to SCCA. We will have 8 cycles of inpatient chemotherapy followed by regular outpatient visits to SCCA. All together we are looking at 6 to 7 months of initial chemotherapy treatment. This of course is the general plan and subject to change day by day. We are focused on one day at a time and still processing this news as a family. We know that we are not embarking on this battle alone. My cousin Ray and his wife Kristi are in their own war against cancer and were able to connect with us on FaceTime yesterday to provide encouragement and let us know what lies ahead from their experience. You can follow Kristi's War to read more on their journey.
---
How can I help?
We are so grateful to all of you that have voiced your support and given us prayers and encouragement. Many of you have expressed a desire to help and assist. As I mentioned we are still processing this news and what our needs are or will be. You can follow us here for ongoing updates and organization around ways you can support.
---
💡
Imported Comments
Jennifer Pepera A week ago · 0 Likes
Sweet Schoenberger family, praying for you all! I'm not on social media, so I just found this out on Michael's facebook page. We are all praying for you Stephanie and for the Lord to uphold you and carry you through the tough months of treatment ahead. Hugs to you all! Love from the Peperas
Stephanie 5 days ago · 0 Likes
Thank you for reaching out, and praying for us. Love you Pepera family!
Shawn Guenther 3 weeks ago · 0 Likes
We are praying for you and your family. We will be following this so that we can help in any we can. God is great.
Susan Cole 3 weeks ago · 0 Likes
Praying for you today, Stephanie as you begin your journey of hospital and clinic visits. Praying for God's peace that transcends all understanding, for God's wisdom and guidance for the medical team (how thankful we are for their study & knowledge of these things), and for confidence in God's unwavering love . "In all these things we are more than conquerors through him who loved us. For I am convinced that …. (nothing) will be able to separate us from the love of God that is in Christ Jesus our Lord." Rom. 8:37-39
Our love and prayers -
Fighting with you and Brandon & family from Boise, ID
Susan & Aunt Mari, too!
Laurie Kasowski 3 weeks ago · 0 Likes
Thank you for posting the videos about ALL, which I'm going to watch now. So much to learn and understand about this illness. We are praying with faith, knowing that our God is the Great Physician and that He holds you and your family in the palm of His healing and loving hands.
Rachele Hodges 3 weeks ago · 1 Like
So much to process…count on our prayers as you begin the fight! You all are so loved by us and more importantly by God. Our prayers are for wisdom, encouragement, peace, comfort, and strength.
Kay, Greg and Marissa 3 weeks ago · 1 Like
Your family will be in our thoughts daily, please let us know if we can help in ANY way. We are here for all of you!. Kay, Greg and Marissa❤️❤️
Uncle Randy 3 weeks ago · 1 Like
Aunt Sherry and I are with you guys in this fight. We're praying each day for peace, strength and wisdom. We'll be also praying for God to provide the right doctors, nurses and specialists to care for Stephanie while she's in this battle. Our Father is faithful!
Arla Cole 3 weeks ago · 1 Like
We love all four of you and are praying for you! We will watch here for updates and ways to help! 🧡💚
Lindsey 3 weeks ago · 1 Like
We love you guys and are here to walk with you.
Ray Rhoton 3 weeks ago · 1 Like
Love you guys and we join you in this fight! 🧡💚 #jointhefight