Discover more from SchoenTell
The future is something which everyone reaches at the rate of 60 minutes an hour, whatever he does, whoever he is. - C.S. Lewis
Some Updates From the Week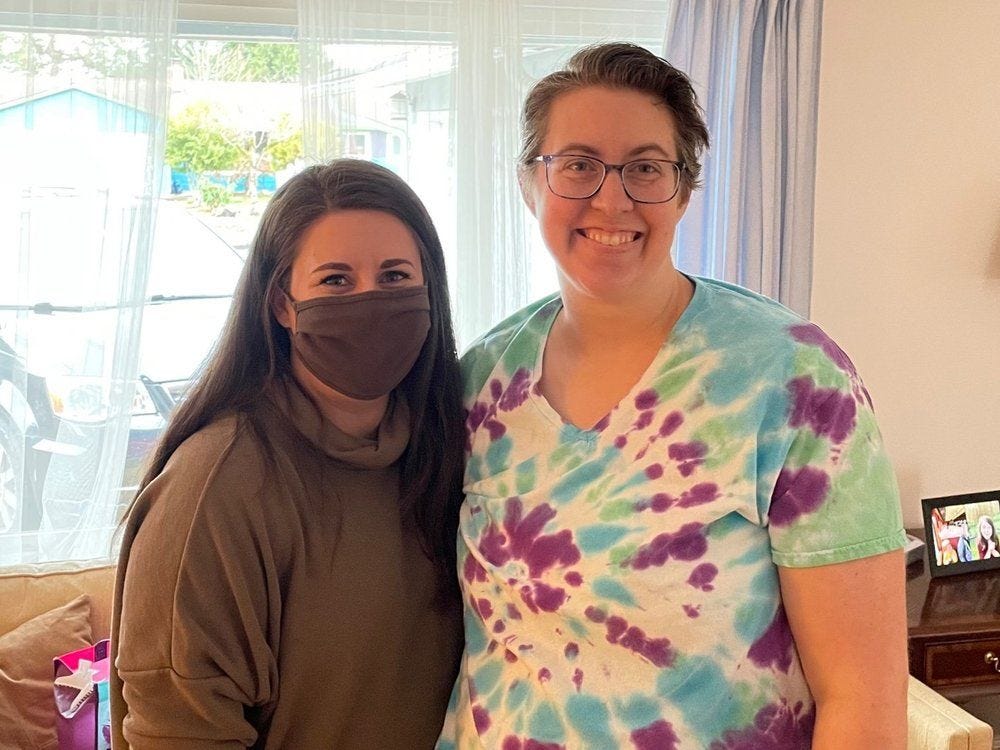 We've had a busy week of outpatient visits since coming home from the hospital. We are getting to know our way around Seattle Cancer Care Alliance pretty well.
On Tuesday I had an appointment for a blood draw and to get a shot to boost my white blood cells back up. We got that done, and then picked something up from the pharmacy on the way out. I was feeling kind of tired, so I tried to sit on a bench in the lobby.
Next thing I knew Brandon had caught me while passing out. Whoops! Within seconds the code team was there to check me out and make sure I was good to get to the car.
So I'm learning to listen to what my body can handle and what it needs as I got through this.  Our first clinic day was more eventful than I meant it to be, I got a lot of extra attention.
Day two of the outpatient clinic was a long one! We drove in at 6 AM. I had a blood draw, then I needed my platelets boosted for a procedure. After my infusion I was feeling a little nervous about the lumbar puncture procedure. They took me back, but immediately said my platelets didn't get high enough.
So they sent me to get another infusion to put me over the top. When I'd been in the hospital I'd gone in nervous about treatment, but then wondering if it will work out makes me shift mentally to hoping it really works out today. Perhaps God was helping me have a little extra time to shift my perspective.
Brandon compared the chart app with my appointments to the Disney app where you're waiting to see what ride you'll get to go on next. He sure keeps me laughing. Can I get a Mickey pretzel?
I was surprised by the lack of confirming appointments, they just put stuff on my schedule, and that's what I'm doing. One more way to let go and relinquish control. It makes sense though, I have nothing else on the schedule. Fighting cancer is what's on the agenda.
Anyway, I was able to get my procedures done on that second day. We got home about 5 PM. I've had a very small appetite, but I ate a pretty good sized meal after all that.
Thursday was a day to rest at home. Brandon's sweet cousin Emily came over and gave me a haircut. Going with short hair for a bit before it comes out is definitely more manageable. It felt very nice to get freshened up!
Thankful for all those bringing meals, and sending fun activities for the kids. The kids keep asking when I can play with them more, but I'm pretty wiped out. But, they still let me watch their games, or cuddles while we watch a movie.
💡
Imported Comments
Lauren Harper A week ago · 0 Likes
Praying for you this week ❤️
Ray Rhoton 2 weeks ago · 0 Likes
Thank you for the update! Keep fighting and staying positive. Continued prayers! 🧡💚