Discover more from SchoenTell
The future is something which everyone reaches at the rate of 60 minutes an hour, whatever he does, whoever he is. - C.S. Lewis
Seattle Visit
I decided it would be a great day to have the kids visit Seattle and see where their mom has been staying these last few days. It was a beautiful morning and the kids and Steph enjoyed the visit. While they were not allowed to into the hospital, we were able to see each other through the window and FaceTime with her. The kids also enjoyed seeing the boats in the canal and walking on the Montlake Bridge.
I journeyed back around noon to bring fresh clothes (she gets to wear her own clothes which is nice) and visit.
Steph has had her six doses of the Cyclophosphamide and will be starting her 24 hour treatment of Doxorubicin and Vincristine this evening. If all continues as planned, she will be able to be discharged on Monday. We already have our first follow up appointment at SCCA scheduled for Tuesday.
The kids and grandma Paulette also helped me hang up our new year calendar to help keep track of treatment days and future hospital stays. The kids are excited to add things to the calendar and most of all to cross off days until mom returns home.
Steph has been feeling great and getting exercise by walking her floor. She is already over a 1/2 mile in today. I'll work on keeping the regular updates coming, but thankfully the last couple days have been pretty uneventful. The numbers are all looking good as expected and treatment is continuing as planned. Appreciate the continued prayers!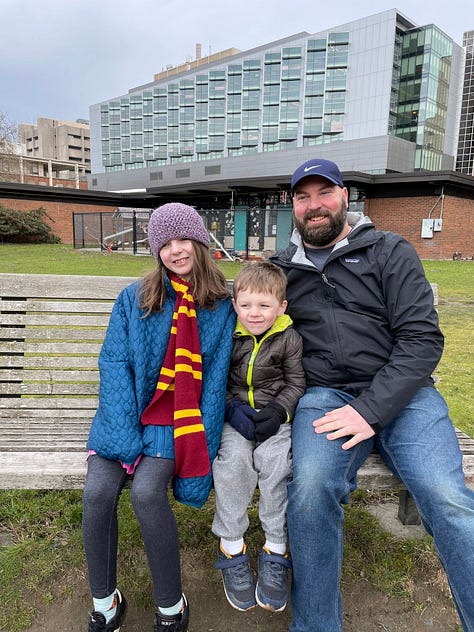 💡
Imported Comments
Lauren Harper 2 weeks ago · 0 Likes
❤️
Suzy Hutteball 2 weeks ago · 0 Likes
Amazing ❤️
Randy 2 weeks ago · 0 Likes
Praying for you all of you!