Discover more from SchoenTell
The future is something which everyone reaches at the rate of 60 minutes an hour, whatever he does, whoever he is. - C.S. Lewis
God is Answering Our Prayers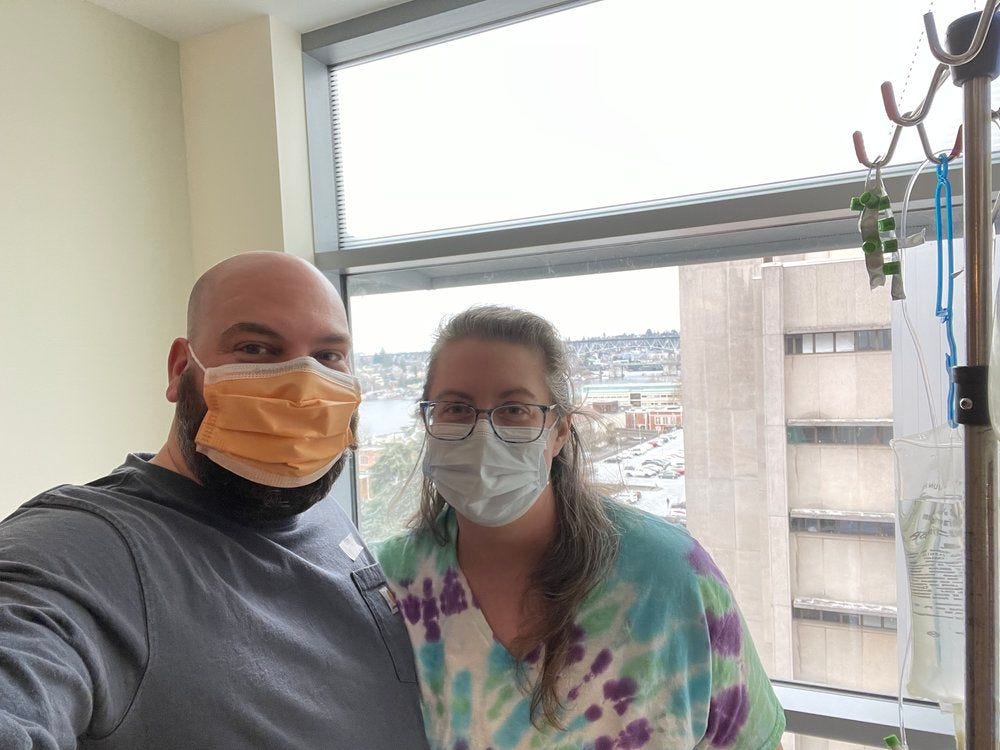 We're getting ready to wrap up on my first inpatient hospital treatment for Leukemia.  Here's some of the prayers that we've seen answered so far:
Visiting hours were 11-8, not for 1 hour like my paperwork said, so Brandon has been able to be with me during the days.

I have not felt scared or lonely being in the hospital on my own over nights.

I was dreading side affects, especially nausea. So far I've experienced NO NAUSEA at all. I'm feeling strong, energetic and in good spirits.

I've been feeling the prayers of friends and family, helping me remember the truth of the gospel, and rebuke any lies that come my way.

The doctors say the treatment is doing what it's supposed to, and to stay the course.

Grandma Paulette has been taking amazing care of the kids, so I can focus on being here, and Brandon can do things for me, the kids, and himself.

The kids are handling all the changes so well. They ask me how I'm feeling and when I'm coming home every time I'm on the phone with them. So thankful for technology to see and talk to them.

The family was able to come see me through the window.

I'm supposed to go home tomorrow. Can't wait to hug my kids, and be home with my family!
💡
Imported Comments
Anna Vagt 2 weeks ago · 0 Likes
🧡🧡 That's so great to hear, Stephanie! I'm so glad things are going well and thankful for all those ways God has so tangibly been present and answered your prayers!
Sydney 2 weeks ago · 0 Likes
Praise God for how he has heard and answered!!! ❤️❤️
Ethan Lorimor 2 weeks ago · 0 Likes
Great news! Thank you for the update!
Ryan Dudley 2 weeks ago · 0 Likes
🙏🏼🥲
Lauren Harper 2 weeks ago · 0 Likes
That's a lot of good news!
Ray Rhoton 2 weeks ago · 0 Likes
Great news! It's hard being away from the kids! Keep fighting!
Aunt Sherry 2 weeks ago · 0 Likes
So thankful for answered prayers! Love you, Stephanie, and am continuing to pray fervently for you! Aunt Sherry
Uncle Randy 2 weeks ago · 0 Likes
Great news! We're praying for you both.