Discover more from SchoenTell
The future is something which everyone reaches at the rate of 60 minutes an hour, whatever he does, whoever he is. - C.S. Lewis
Day Six: Hello Neutrophil
We are currently on day six post transplant and Steph is doing really well. As mentioned earlier, we are in the watching and waiting phase of the transplant process. During the process her own blood making stem cells where wiped out and replaced with the donor cells. Those donor cells then take some time to engraft in the marrow and start producing new blood cells. During this phase, since she is unable to produce her own cells, we have been having labs performed every morning and then she receives infusions as needed. The process (radiation and drugs) also are a pretty hard hit on the kidneys, so we have been receiving regular IV hydration as well. As I type, we are back at the clinic for some platelets (the cells that enable your blood to clot) and IV hydration.
One of the primary markers that confirms engraftment of the new stem cells is the count of neutrophil cells. These are the very important infection fighting white blood cells. They are often wiped out during the chemotherapy process and when the total count is below 500 you are considered neutropenic and are highly at risk of complications from infection. This is why we have been much more isolated from physical community (which is no fun as we all know from COVID). The new stem cells are considered to be engrafted when you reach a >500 count for three consecutive days. We were very excited and surprised to see one neutrophil show up in the counts today!
Steph has so far had minimal side effects from the transplant. The care team has been pleasantly surprised with how well she has been tolerating the process to date. We are continuing to take things one day at a time. Strength is still up and down and the daily clinic visits will continue for at least the next couple weeks.
Cascade Park Refresh
The city of Renton recently refreshed our neighborhood park and I was able to get over with the kids to check it out. They have been really patient understanding that we don't want to be around crowds and bring home any germs. We found a quiet time and were able to get out and have some fun on the new equipment. My knees didn't know what hit them...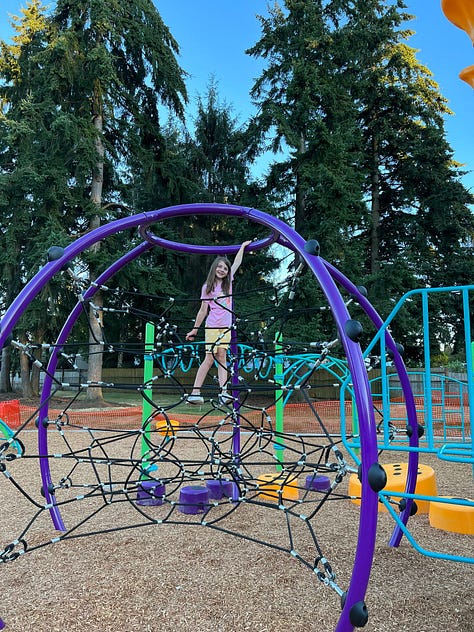 Trusting the King
Redeemer just recently finished up their Summer in the Psalms series and I wanted to highlight the recent sermon from Psalm 9 and 10 that was a great encouragement to us in this season. We have also been enjoying the Church Matters podcast on our many traffic filled days.
Thank you
We thank you for your continued prayers and support as we continue on in the process. We are thankful that we have been able to remain outpatient even if that means making a couple trips to Seattle each day (like today). There are many who are not so fortunate to live within the 30 minute bubble of Fred Hutch who must relocate for their treatment. One other closing note is that my cousin Emily Smith recently set up a GoFund me account. That is legit - even being setup by someone with a fake name like Smith ;) There is a link in on the Join the Fight page linked above as well. I'll dive into more finance details of this journey in an upcoming post for those that are number munchers. Until then, thank you all for your support and that includes simply following along and reading along this far. Love you all!