Discover more from SchoenTell
The future is something which everyone reaches at the rate of 60 minutes an hour, whatever he does, whoever he is. - C.S. Lewis
Day 26: Long Days
Today marks 26 days since transplant and 14 days at the hospital. Progress has been slow, but steady.
The liver numbers have been slowly improving each day. There was discussion around Stephanie having sinusoidal obstruction syndrome (SOS) which is a complication that can occur post transplant. It is some liver damage caused by the chemotherapy drugs given as part of the conditioning phase. She met some of the markers for this, although not all of them. The team decided to start her on the drug defibrotide which is often given via IV every 6 hours for 21 days. They reassess this treatment every 7 days (we are currently on day 5). The current leaning is that they may be able to lower the treatment length given the improvement shown so far. Decisions will be made of the next couple days as to how to continue the treatment of the liver.
Her kidneys have been holding steady the last week. There was improvement that thankfully held off the need for dialysis. The nephrology team has continued to visit daily and have added additional medications to assist in getting fluid off. The current goal is to get 1 liter per day off. This will help with Steph's comfort and energy levels.
Steph's been able to start taking more walks around the floor this week. I am pretty sure she earned her first mile badge last night. The team's goal is to start focusing the treatment more towards something that can be managed as outpatient so Steph can get home. We are still day to day with many teams watching the numbers, but it is good to hear them starting to talk with that goal in mind. Being attached to an IV pole for 20+ hours a day makes for some long days.
The kids have been able to visit now that Steph has been feeling a bit more up for guests. They enjoy the exciting sights and sounds of the hospital and the trip to Seattle. I enjoy the fun 1:1 time with them too. They are growing up way too fast.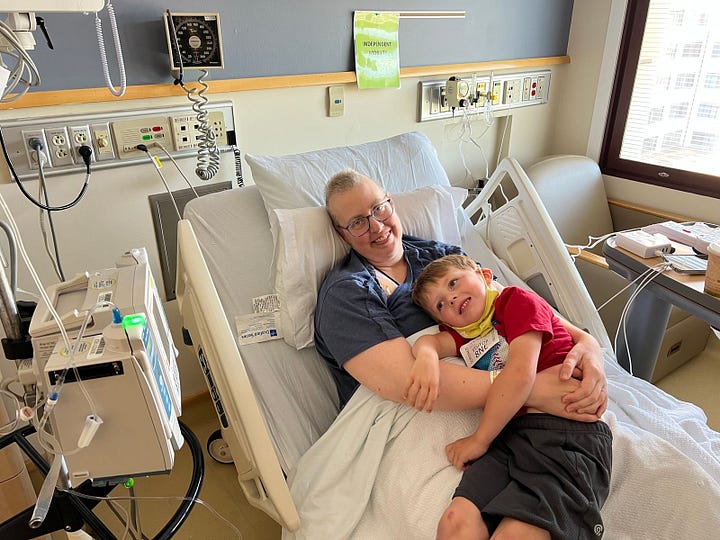 I have been keeping busy with regular "life stuff" that doesn't really pause during all of this. I finally replaced a lock actuator on my truck that had bugging me before all this. My mom (Paulette) has been working hard on the landscaping at the house that took a bit of a backseat these last couple months. Quite the upgrade! Now we are ready to start thinking about some fresh paint, but no rush there.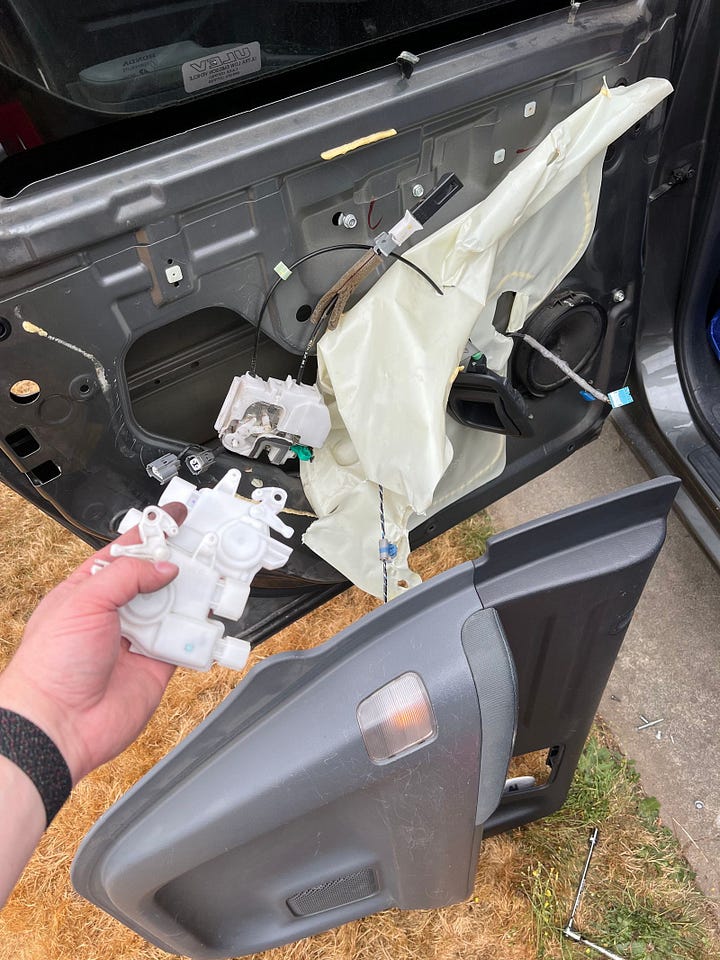 Thanks for following along and continuing to support us through these long days. Steph is still fighting strong and very much looking forward to getting home soon. I'm planning on getting back to some remote work come September 3rd when my leave ends. Some productive distraction that pays the bills should be good for my mental wellbeing... at least I'm feeling positive about that. :)