Discover more from SchoenTell
The future is something which everyone reaches at the rate of 60 minutes an hour, whatever he does, whoever he is. - C.S. Lewis
Cycle Two is Wrapping Up
The "course B" of the Hyper-CVAD chemo wiped me out. At the beginning of the cycle my bones ached, and for the rest of the time I barely wanted to get out of bed.  Slowly but surely I've gotten stronger and more energetic. And I've gotten my appetite back, where for a while it felt like work to try to eat. Today I enjoyed some Chick-fil-a!
The kids went on an adventure with Grandma Paulette last Saurday to Uncle Sean and Aunt Katie's wedding reception, so they've been having a blast! It was their first flight without mom and dad (which was harder on mom and dad than Julie and Peter who where not phased).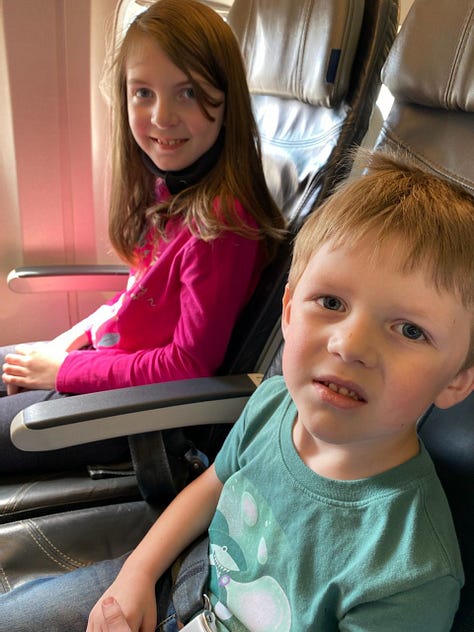 Brandon and I have had the house to ourselves. It's been oddly quiet, but fun to be just the two of us. We were able to get out and enjoy the beautiful sun yesterday with a walk at Gene Coulon Memorial Park on Lake Washington. Was amazing to get outside and get moving, but it definitly wiped me out!
We're gearing up for cycle three starting tomorrow evening back at UW Medical Center. Looking forward to seeing our amazing care team at 8SA!
We had a follow up appointment with Dr. Cassaday today. We are going to continue the Hyper-CVAD treatment course as they make preperations for the stem cell transplant. We will be meeting with the transplant doctor and team soon for a consultation. They are in the process of matching me to a donor now. That process is expected to take a few weeks and will be ongoing as I am in cylce three. If you are interested in becoming a stem cell donor yourself (in general, not for me specifically), you can learn more about that here and join the registry. Brandon completed the process and it is just a simple mouth swab to get you into the system.
Just continuing to take this all one step at a time.