Discover more from SchoenTell
The future is something which everyone reaches at the rate of 60 minutes an hour, whatever he does, whoever he is. - C.S. Lewis
Battle Fatigue and Renewal
Today marks day 129 of the battle against leukemia (aside: Russia invaded Ukraine the same day that our battle began). Our last update signaled the start of a new attack plan that was to last about a month. That was an outpatient chemo plan, but it hit Steph's liver pretty hard and we ended up at UWMC on the 17th for a few days to allow her liver to recover. When I say pretty hard, it knocked her out. We were able to come home Monday afternoon, but she was still not able to walk without assistance. Recovery was very slow the first week home, but this last week we have seen her strength double just about every day.
We had our first meeting with the Blood Marrow Transplant (BMT) team on Wednesday. They started by going over the team members (we are on the "Tan" team - they are color coded teams). Steph had a physical, a bunch of blood work, x-rays, CT scans, pulmonary function testing, and a bone marrow biopsy done. We also signed a ton of consent documents related to the transplant itself and went over the process in much more detail. This week we will see a few more specialists (heart, liver, GYN, and dentist). She is also getting fitted for some leg braces to assist her walk as the "foot drop" she picked up from the chemo has made that a challenge for the last couple months. This is the evaluation phase of transplant that looks to surface any underlying issues that may need to be addressed before transplant. It also allows the team to zero in on specific areas to watch and baseline so they can see how the transplant impacts those functions.
We did receive the preliminary results of the biopsy and unfortunately there is still trace amounts (0.1%) of leukemia present. While we were hoping to see that completely wiped out, it does confirm that the path towards transplant is the correct one.
Steph's goal for the next three weeks is to build up as much strength as she can before the conditioning process begins (target is June 23rd). The conditioning process is a week long treatment of high dose chemotherapy and radiation. The transplant infusion then follows.
The last few weeks have definitely brought to surface some battle fatigue. The physical knock down from the liver flare up and the mental fatigue of transitioning teams and changing battle plans has put new strains on us all.
We continue to be supported so well by many of you reading this. Thank you. As one battle plan wraps up, we have a new plan of attack in this war. With that comes new challenges, but also new energy. Steph has been building her strength and working on her PT assignments more and more each day. She has been drinking more water that she ever has (or ever wanted to) and her full appetite has returned. She is more focused than ever before and ready for the continued fight ahead.
Yesterday we were able to get out in the evening to celebrate my mom's birthday. We are so grateful to have her here and it is hard to imagine what the battle would have been like without her in our corner. Happy Birthday mom!
Also, I can't forget to mention Father's Day! While Steph was in the hospital, I was able to spend the first half of the day with Julie and Peter. We had all kinds of fun together. We started off our morning with breakfast at IHOP and then enjoyed some fun back at the Family Fun Center. We played some mini-golf (Julie had a hole in one!), raced some go carts, went bowling, and enjoyed some arcade games. It was a much needed break for us all and a very memorable day.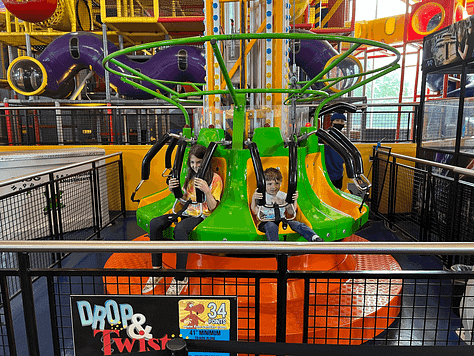 ---
Wait and War
Joy crashes into sorrow.
Strength collides with weakness.
Dispair washes over hope.
Pain slices into peace.
Longing overwhelms contentment.
Hatred stains the fabric of love.
Reconciliation wars with prejudice.
Entitlement weakens service.
Sin pulls against righteousness.
Division leaves fissures in unity.
Idols capture worship.
Light battles with darkness.
Impatience cripples perseverance.
Autonomy grapples with surrender.
Lies work to silence truth.
Such is life between "the already" and "the not yet."
Such is the journey in a world that is groaning.
So we wait and we war,
but we to not wait or war alone
because the Great Victor is with us,
in us,
and for us.
He will have the final say,
His will be done.

Paul David Trip, My Heart Cries Out